Introducing JobzMall Home & Maps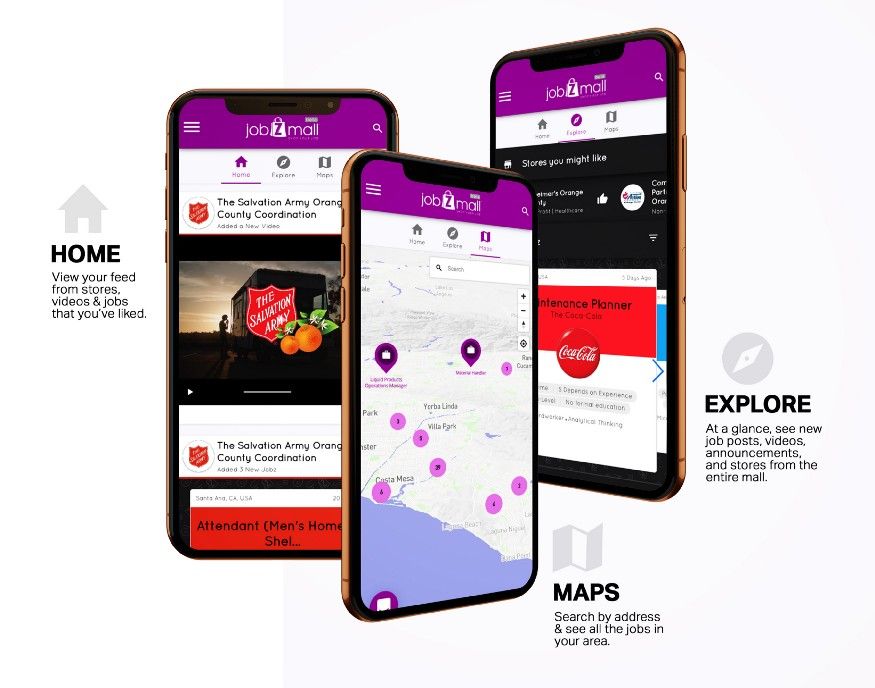 The virtual mall was built so you can explore job opportunities in a passive yet engaging way — to "window shop". Today we are taking job searching to a whole new level by introducing JobzMall Home and Maps.
Your Home shows you real-time updates from all the stores you follow, all in one place. Just go to your on "Home" from the navigation menu for a completely new JobzMall experience. From recent videos, to job openings, Home takes you beyond "Virtual Mall" and helps you make a real connection, instantly.
A whole new experience to find jobs
With Home, we've made it easier than ever to connect with any organization you are interested in — you can apply to their latest job with one click, take a video cover letter that is specific to each job, whether you want to share the job opening to a friend via SMS, or message with the hiring managers for the jobs. It is similar to a Mall Directory- but tailored just for you 🤩
Stay up-to-date with the organizations you care about
Home is a engagement tool that helps you get to know more about the organizations you're interested in. It's fun, it's effortless, and it's only between you and the stores you follow. No friction, no white-noise.
See what jobs are hiring near you on a Map
Wondering are there any jobs within a mile that you would be the perfect fit for? Or maybe you're planning to move to a new house? Maps allow you to take your job search to a whole new level. Without typing in anything you can visually explore all the available jobs within your vicinity on an interactive 3-D map, or you can search by address and see all the openings — even calculate the real-time traffic from your house. That 3-hour commute each day better be worth it! 🙌
Explore new companies and jobs
Explore is a discovery tool that helps you follow everything in one place. You can quickly view all jobs, latest videos, announcements and stores that you might like, all in one-spot. Where Home is a place where you stay in touch with stores you follow, Explore is a place where you can discover new stores and jobs.
You can access these new features today at JobzMall  — so join today at https://app.jobzmall.com/signup
---
Personal Note from the CEO:
As we always say, JobzMall is your platform, it is built for you. I call us the Dream Team, for two reasons. First, we are comprised with an amazing, insanely passionate, talented, diverse individuals that came together to form a harmony. Second, we are all dreaming a world where people can find jobs, find careers, in a seamless way. That's why we are not doing certain things the way many are used to right now. We are imagining how this boring and stressful process can be improved, and become an experience. While doing so we dream to disrupt an entire industry globally. I invite you to join the movement, to disrupt, to change, to improve. To dream with us, at www.jobzmall.com
JobzMall Dream Team